Carol Pratt Bradley is a historical novelist with a Master of Fine Arts in Creative Writing. Her history interests currently include the Ancient Near Eastern world, Reformation England, and 17th century America. She is the author of The Light of the Candle, an imaginative story of the biblical Daniel. She has been married to her wonderful husband Bryan for over three decades. Their three daughters and one son have grown and left their parents to survive on their own. They have a Yorkie named Ozzie, who sleeps beside Carol on the couch while she writes.
This interview originally appeared on Colleen Story's Writing and Wellness blog. We have reprinted it here with Colleen's permission.
As Writers, We Must Practice Balance
Writing is part of who I am, but it is not all of me. I like the description of myself as a house filled with various rooms, each with a different purpose.
If I give all of my attention to only one room, making it bigger and more elaborate than the other rooms, then my house is not balanced. To be a productive, creative being, I must practice balance like a tightrope walker in a circus. So I've found I need to be careful of how I see my identity. If I see myself only as a writer, I have built that one room too big, to the neglect of the others.
I've heard various writers tell how they fit writing into their days, spending long hours at a desk, staring at a blank wall, etc. That may be good for them, but I've had to find my own way.
I've learned that I am a people person, who goes crazy if I'm alone in the house too much, which does nothing for my creativity. I need variety to my days:  taking nightly "walk and talks" with my husband, going to a tai chi class with a good friend, doing yoga with my twin sister, pulling the ever-present weeds in my flower beds, attending church on Sunday, going to plays and lunches, and enjoying bridal and baby showers in my neighborhood. I need to laugh and talk with friends, and make new ones. Being actively involved in life fuels my creativity.
Keep a Notebook With You Wherever You Go
Writing doesn't happen only when I'm sitting at my laptop. My mind can be inside the story that I'm writing while I'm exercising, doing the dishes, vacuuming, traveling, even sleeping. It's ruminating inside of me.
I always keep a notebook with me wherever I go, because I've learned that flashes of insight come at random times, very often when I'm driving in the car. If I'm having trouble figuring out how to write the story, I step away and do something else, and often the answer comes. I will wake in the night with ideas flowing through my head that I know will be gone by morning, so I scribble them down in the dark.
Mornings are wonderful. My mind can wake renewed, the ideas flowing. That is my most creative time. I love days when I can feel the creativity pouring onto the paper. After about three hours, the flow stops, and I must move on to other things.
But I have the satisfaction of knowing that come tomorrow, the creativity will come again. I can also go through the rest of the day without the nagging feeling in my gut that I haven't added to my word count. Guilt is never a healthy thing.
We Need Moments of Silence
I remember a February day when I was a young mother. My daughter was taking a nap, and I lay on my bed in the afternoon sun. It was sixty degrees outside and the air was soft and quiet. In that moment, I felt whole.
I tried to capture the feeling in a poem.
I need moments like that in my day, like now, sitting at my bay window, listening to the breeze playing the tree leaves, and the haunting dove coos.
There are so many distractions that keep us from experiencing silence. The TV remote is so handy, with Netflix, or a new CD, or Facebook, or the news channels.
I must have a time when I shut all that out, and listen. Some people call this time meditation. I call it reaching.
It's Not About Me; It's About Others
Focusing on self is not true creativity. It makes us narrow people, and narrow people cannot write about others with empathy.
Martine Leavitt, a Canadian writer who I really admire, said: "The less time we spend thinking about ourselves, the more time we have for thinking about the wonder and the mystery of this thing we call life, which is the subject of every story. If we are taking our own pulse all the time, when will we hear the hearts of other people?"
I cannot approach writing from a selfish perspective. It's not all about me. It's about others.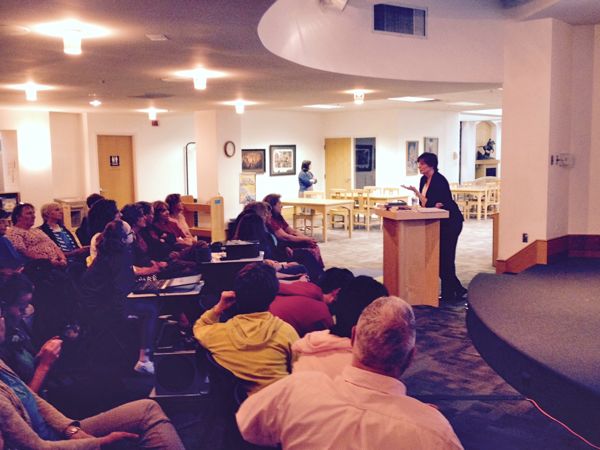 A writing teacher in college told me once: "I do not know how you do it, but the world is in your stories." I was puzzled by what he said. Decades later, I think I am beginning to understand.
The world is in me, and outside of me. Writing brings empathy, the opportunity to put myself inside another person's life. The people I write about teach me: about courage, relationships, forgiveness, strength, hope. They make me see my own potential.
Don't Quit Being Who You Are
Sometimes when I associate with other writers, at conferences or workshops, etc., I start to feel frantic, an anxiousness that the end goal is always to be published, to get an agent, to get the editor you pitch to ask for your pages.
I see people who act as if their happiness lies in only one thing: they must get published.
A couple of years ago I became discouraged about a writing career: getting requests for fulls or partials, and then silence or rejection, or having to turn down offers because I could not accept the restrictive terms of the contract. I had spent two and half years earning a Master of Fine Arts degree, had two completed novels, and I wanted to see the results of my efforts.
At my lowest point, I went to see my chair of my MFA thesis committee, writer Chris Crowe, and asked for his blunt opinion. "Should I just quit writing?" I asked.
He shook his head: "Writing is part of you. Even if you never publish, you will still write. You write because you must. Don't quit being who you are."
I chose not to quit. Writing is not an extra. It is one of the rooms in the house that is my life.
A little over a year later, I found a publisher who shared the vision of my work and offered to publish my first manuscript. Next came the hard work of revision, which has become my favorite part of writing, and the thrill of physically holding in my hands a book that I created.
Now a second manuscript will become a book next year. I've almost completed the sequel to Light of the Candle, have a draft halfway completed of a fourth work, and many more ideas.
It is wonderful to be able to share the creative part of myself with others. People see me as a writer now, which is definitely satisfying. But, I know, I have always been a writer. Now I get to share. But I had to learn that writing is much more than being published.
It allows me to see, helps me learn how to love, and makes me more whole.
Advice to a Young Writer
My personal journey as a writer took decades to come to fruition. I'd been told I could write well since grade school, but I struggled with what to write about. I lacked depth and needed more experiences to teach me about life and relationships.
Do not feel that you must be published when you are young, or that there is a specific timetable that you must follow or you will be too late. A writing career isn't the same as sports, things that are best accomplished when the body is young.
Work on your craft, and let your life teach you the lessons that will make you a great writer.