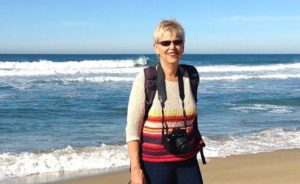 Patty Somlo has received four Pushcart Prize nominations, been nominated for storySouth's Million Writers Award and had an essay selected as a Notable Essay of 2013 for Best American Essays 2014. (This post originally appeared on Colleen Story's Writing and Wellness website. We are reprinting it here with Colleen's permission.)
Talk Yourself Out of Giving Up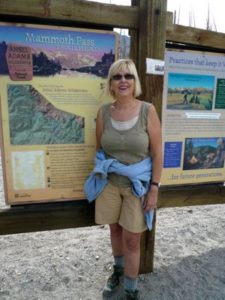 I tend to suffer from many of the emotional challenges of being a writer, including dealing with rejection, depression, motivation, anxiety, self-doubt, isolation, and feeling overwhelmed and stressed by book promotion.
I think the biggest effect it has had on derailing my writing goals is to sometimes cause me to give up on getting a piece of writing published because the work has been rejected a number of times.
The chief way I deal with all of these challenges is to keep on working. I also "talk to myself," and this seems most effective when I am out on a long walk.
I remind myself of past experiences that refute the negative thinking I may have fallen into about my writing or publishing prospects.
For instance, when I'm working on a story and reach a point where I think, Oh, this isn't any good, I remind myself of the times I've thought that in the past and the piece ended up being good.
Over the years, on my own and working with editors, I have learned how to revise my work. Remembering that I have this ability nearly always helps.
Do You Ever Reach the Point When You Don't Receive Rejections?
Rejections are hard, especially when I have either wanted the piece or manuscript to get accepted by a certain journal or publisher or for various reasons expected it to be accepted.
A number of years ago I learned several strategies for dealing with rejections. First, I almost always submit pieces I feel good about to multiple publishers. Second, over the years I have learned that while one editor might reject a piece, another editor might love it. So, as long as I feel good about the piece, if it is rejected, I'll simply look for another place to submit it.
I also use rejections as a way of determining if the piece needs more work, and if so, I revise it, before submitting the piece again.
I used to believe that I would reach a point when my writing would never receive rejections. That, of course, hasn't come to pass. Like most writers who frequently submit their work, I receive way more rejections than acceptances. However, the acceptances keep me going. One acceptance far outweighs three or four times the number of rejections.
Nature is the Ultimate Soothing Presence
Another challenge I face is that of feeling overwhelmed, the sense that I can't do something I need to do, such as responding to feedback from an editor or undertaking promotional tasks.
I nearly always balk at first, sure I won't be able to do it. But then I sit down and start to think about what I need to do first, taking it one step at a time. Sometimes this means I need more information or to learn something that will then make it possible for me to accomplish the task. When I start to take the first few steps and succeed, that gives me the confidence to continue.
Being in nature—hiking, walking, kayaking on a mountain lake, or just sitting on the deck of a cabin overlooking a river—is, ultimately, the best means I have for dealing with all of the emotional challenges in life, including those as a writer.
There is something about the beauty of lakes, rivers, mountains and the ocean, as well as the lovely rhythm of putting one boot down and then the other, that eases anxiety and depression and lets me know that everything will be all right.
I also get numerous ideas for writing or solving problems with my writing (such as endings) when I'm out in a beautiful natural setting. After a few days, a week or even several hours on a trail or a lake, I return home rejuvenated and ready to start again.
Don't Focus on Being "Good"
About nine years ago, I decided to quit writing. For months before that, everything I submitted was rejected. I could only conclude that I was a bad writer and I would never get any better.
To fill my need for creative work, I started taking a drawing class. The class was held at a place called The Drawing Studio in Portland, Oregon, where I lived at the time.
The teacher I had for this drawing class, Phil Sylvester, turned out to be the best teacher I ever had for anything. He believes that everyone can draw, not just a select group of people with "talent." Instead of teaching the fundamentals of drawing—perspective, shading, etc.—Phil tried to help us have fun and approach making art as artists would.
Unlike with my writing, I didn't feel pressure to be good at drawing. By not being focused on being good, I ended up producing some decent work.
The experience really helped me think about why I wrote. I wrote because I loved to write. And as much as I tried to convince myself that I was done writing, I missed it.
One morning at the Drawing Studio, I noticed something on the bulletin board, where people tacked up all sorts of announcements about the arts. The little yellow postcard was a call for women writers to submit to a local Portland journal called VoiceCatcher. Maybe because of the way the call was worded or that it was a women's-only journal, I decided to submit a creative nonfiction piece. A month later, I was surprised when the piece was accepted.
I then had the experience of working with a super-supportive editor named Jennifer to revise the piece. The wonderful support and encouragement I received made me start writing again and submitting my work.
Not long after, I had a short story accepted by another women's journal. A few months after it was published, one of the editors emailed me to let me know they had nominated my story for the Pushcart Prize.
Set Aside Your Ambitions, and Just Follow the Words
What has most kept me going is that I have a need to write. I write nearly every day, first thing in the morning. I make a strong cup of French Roast coffee, and then get started. That early morning writing session is one of the highlights of my day.
When the writing is going well, I feel happy. When it's more of a struggle, I'm not so content.
I started my writing career in public relations and then moved to journalism. As a journalist, I was accustomed to seeing my work in print all the time. When I switched to creative writing, I naturally wanted my work to be published. I've never been content to just write for myself but have always wanted my work to be read by others. Having work published and occasionally getting feedback from readers also keeps me going.
When I sit down to write, I try to set aside any ambitions I might have for my work and just follow the words where they lead me. But I am ambitious and constantly strive to improve my writing and aim higher with my work. When I reach a goal, I set a new one that's a bit higher. So, setting goals with specific writing projects and working toward them also keeps me motivated.
Advice for a Young Writer: Establish a Regular Writing Practice
First, I would recommend what I tell students in my writing workshops—get started on a regular writing practice. Write every day, if possible. Get up earlier in the morning, if necessary. Find something about your writing practice that makes you want to go there. (For me, it's the first wonderful dark roast cup of coffee.) Even writing 30 minutes a day can make a big difference.
Secondly, I would recommend that anyone thinking about becoming a writer should read widely, and especially in the genres and styles in which s/he wants to write.
Learning to write takes time and first drafts are simply that, important beginnings but not usually close to an end product.
Learning to revise is a necessary aspect of writing.
My final advice would be to start small. Instead of setting out right away to draft a novel or a book-length memoir, I would suggest starting with a flash fiction piece, a short story or a 1000-word essay.
Too many people who want to write these days are focused on the ultimate goal—publishing a successful book—rather than on the day-to-day effort that is required to get there.
I would say that maintaining a regular writing practice is key. Writing on a regular basis will eventually result in good work. Loving to write is the most important part of being a successful writer. The outward success is what you can't control, so it's best not to spend too much time focusing on it, especially at the start.
* * *
For more information on Patty and her work, please see her website, or connect with her on Facebook or Twitter.